cOnTour with GPS
ContourGPS Video Camera Review

Product: ContourGPS Video Camera
Weight: 160g w/o mounting accessories
Memory: Removable MicroSD – Capacity: 32GB (2GB included)
Average Record Time: HD » 30min/GB | SD » 60min/GB
Wide Angle Lens: 135°: 960p, 720p, Photo | 110°: 1080p | Dual alignment lasers
Battery: Removable Lithium-Ion Battery | Charge via USB to computer or Contour chargers (sold separately)
Battery Life: 2 – 2.5 hours
Retail Price: $299.99
See manufacture detail specs
One of the coolest cameras making a splash as of late is the CountourGPS. Strapped to helmets of big name riders like Cameron Zink, Cam McCaul, the Atherton clan and Matt Hunter, it'll be no time before these hi-tech black canisters become a must-have accessory for every gravity adrenaline junkie.
I will stick to simple observations that will help you decide if this is a good camera for you. As a teaser, this video give you an idea for the great video quality. All the technical stuff you can read below.
DESIGN & UTILITY
Packaging aside (which is awesome!), the camera looks and feels great. The build feels solid and will hold up for outdoor activities it's intended for. One of the unique and innovative feature on the camera is the "record" slider-button. The camera seems to have been designed around it. Located at the top of the camera, the button needs to be purposefully slid forward to record. To stop recording, it needs to be slid back. Even with gloves on, there's little doubt as to what position the camera is in.
Once installed, launch StoryTeller (app) and plug in the camera using the USB cable (included). The app automatically recognizes the camera and shows all the videos that are available to be downloaded into your computer. Select a video or all, click "Download" and go grab a beverage… it actually works pretty fast, so don't go away too long.
Once movies are in the library. You can start to relive the fun you've captured. The UI is not too flashy and is intended to be a no frills app, since the important thing is YOUR content. Just double click on any video to play. In the play mode, you obviously get to enjoy your 'sick' video, but the coolest thing is seeing your actual course that is overlayed on top of a google map. There's also a speed and elevation display that tracks against what you're doing on the map in real time. Definitely 'tight' on the geek meter.
StoryTeller makes it simple to share your videos on the internetz. Just click "Post Online" and publish it to Contour's community
. Other contributors can comment your post and can publicize it through the popular social sites. So for all you Facebook addicts out there, you can spread the shred real easy.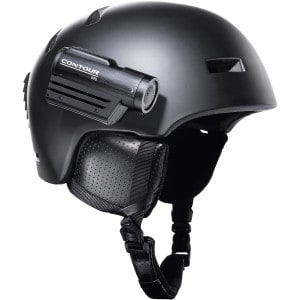 MOUNTS & ACCESSORIES
The ContourGPS comes standard with a goggle strap mount and 2 helmet adhesive mounts. iPhone users can get even more app-happy by purchasing a Connect View card. This will enable you to see what you're shooting before you blast down the trail and avoid capturing a clip of your hand shifting gears (LOL). Android phone users have better luck (however), this connectivity is built in. There are numerous accessories that can be purchased if you're hoping to do more with the camera.

GOOD: Video quality is tops. Great design and construction. Ultra-intuitive "Record" button. 3 position rotating lens for different mounting positions. Light weight and all the fixins' to get you started out of a nicely packaged clear plastic case (box).
BAD: Image stabilization could be better. No iPhone app connectivity without purchasing a wireless card. 8GB card would have been a better choice instead of 2GB. Power button is fussy along with the process for updating firmware. Chest mount not ideal, due to form factor.
Reviewed by Qwan Pham